The 2014 event trophies have been an on-going project that we started in December.
The brief was simple, to make something unique, different and with relevance to the event.
It was our photographer, Anthony Pease that first had the idea of a shell case design.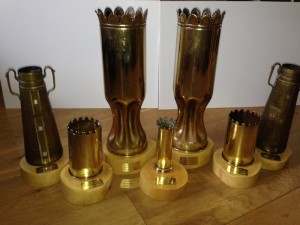 After scouring all the usual places we eventually had various shell cases in different conditions. The largest, a whopping 102mm diameter are German shells used in WW2. We also have shells that date from 1914 and also more modern shells.
The shells have been mounted to locally sourced Cedar wood that have been shaped, polished and waxed by local craftsman Steven Pocock.
Trophies are available in the following categories:
Open Male
Open Female
Veteran Male
Veteran Female
Grand Veteran Male
Fatbike UK Champion – Male
Fatbike UK Champion – Female
We hope you like them!